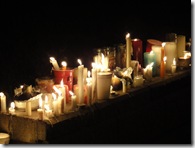 As if we could call her back with candles.  As if the flickering light could guide her home.  As if she could be found, safe, asleep in her own bed, dreaming of eight-balls, balance sheets, and thanksgiving dinner.  As if none of this has happened.  As if time was inspired to be kinder, once warmed by fragile flames.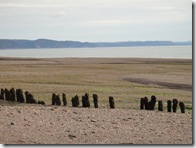 The line of posts along an empty expanse of beach is all that remains.  Infused with a century of seawater, covered in mops of rockweed, these dark-wood sentinels wholeheartedly deny the massive sides of ships once built here.  The distant echo of wood on wood is so faint that it is as hard to hear as history.  When the tide is in, even this small evidence is covered over completely.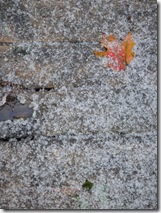 Every time we look out the window, something different: rain, wind, sleet, rain, hail, rain, hail, houses with wet basements, and there it is, snow.  A different kind of out-of-season gift.  October reminds us that change is to be expected; that mornings, as well as evenings, are highly unpredictable; that there is great beauty even in the stinging cold.