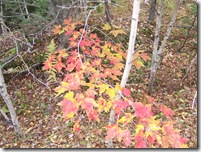 The woods are at a mid-way point in their transition from summer to winter.  Half the leaves are still on the trees, blazing colour; the other half lie on the ground, carpeting the slope and dip and climb of the flowing landscape.  Views open up, and air moves softly through branches.  Everything has quietude at its core, preparing for a long sleep.  The dogs run between the trees and their feet make a shhh! shhh! shhh! shhh! sound, like an autumn bedtime story.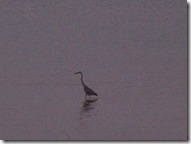 I would not even call it patience.  She walks knee-deep in the still water, parallel to the shoreline.  The tide rests in that still place between coming and going.  One spindle leg after another, almost gliding, the heron embodies stillness, contentment, peacefulness, satisfaction.  It would be easy to believe that she wants for nothing, and walks the shallows for no purpose aside from languid contemplation.  And then she sees a fish.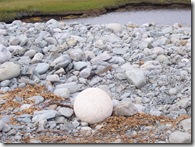 It's a strange beach.  The irregular-shaped grey rocks are studded with occasional smooth circles of pink granite, bigger than I can lift.  Everything I know about geography makes this impossible, so I am free to construct my own story…
I am sure dragons have landed here and laid their eggs at the water's edge.