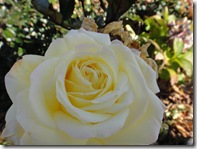 It bloomed in October, and lasted until today's torrential rain.  It stood on the lawn like a kind of sentinel, watching as we walked, distractedly, to our front door; like a kind of memory, pale and fragile in the autumn sun; like a kind of promise, holding out among the falling brown and curling leaves.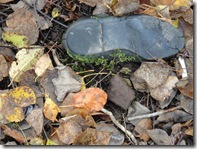 Another artefact, cracked and moss-covered, lies damply beside the brook.  There is a iron-mine of rusting garbage in this spot, along with still-recognizable household items much too young to be antiques.  I don't know why our parents and grandparents favoured river banks for dumping.  Eventually, they might have thought, it would all just wash away.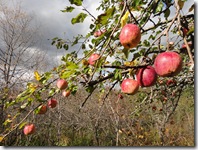 They aren't wild apples; once, this was a field or an orchard, and a human hand planted this tree.  Now, alders and hawthorn grow up around it in thickets so I am surprised, when I stumble through here, to see the perfection of this fruit.  The tree just keeps on doing its tree job, feeding us, humans or deer or yellowjackets, without prejudice.